Long-time locals might
remember St Luke's General Hospital, which served Bellingham and Whatcom County
for over 100 years. When it sold in 1983, the proceeds were used to establish
the Chuckanut
Health Foundation, which now offers an impressive list of
programs to improve community health. Recently, the Foundation launched Aging Well Whatcom to
address the fact that all of us are getting older, and there's a good chance
we'll need help sooner or later—so why not plan for it now?
"For 38 years, the foundation
has been focused on what we call the social determinants of health," says
Heather Flaherty, executive director of the Chuckanut Health Foundation. "The
healthcare system contributes to our health, and the rest depends on whether
you live in a neighborhood with sidewalks, have clean air, the ability to be in
relationships and healthy ways access to food."
Chuckanut Health Foundation
takes a good look at these everyday factors, and provides assistance where it
is needed. "Our vision is that every child gets a healthy start, and every
person gets the care they need throughout their lifetime," Flaherty says. "A
few years ago, Chuckanut saw a gap in community planning for older adults, so
we brought together a coalition of people who were in recreation and
transportation, people who take direct care of seniors—all the things that go
into creating a community—to create a community plan. To get us all rowing the
boat in the same direction, so to speak."
The coalition developed an Aging
Well Blueprint, which covers six areas based on research,
surveys and interviews: housing, transportation, healthcare and wellness,
culture shift, intergenerational connections, and information navigation. They
scheduled a summit meeting to share the blueprint with the broader community
and get input on priority strategies.
"We were thinking maybe 35 people
would come, but 200 showed up from across the community," says Flaherty.  "Our county executive, people from AARP, and
funders from foundations all had their different reasons for coming. All the
different resources have different people answering phones and giving different
information, and you can be on different waiting lists for assisted living or a
doctor's appointment, so information navigation is a big component."
Intergenerational connection
received so much attention that a smaller group formed after the summit to look
into bringing people of different ages together. "Out of that came the idea of the Dear Friend Pen Pal Project, something we could bring the community into
safely," says Operations Coordinator Tessa Whitlock.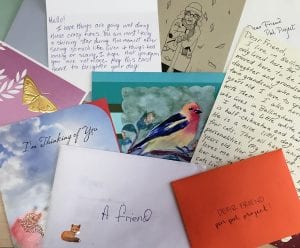 The project launched in October
and has already received 772 letters from the community. "We have community
partners that act as drop off sites: the YMCA, Allied Arts, Art and Happiness, and
eight WECU branches have made their night drop locations available," Whitlock
says. "We then get them to Summit
Place, Mount Baker Care Center, Rosewood Villa, Christian Health Care Center up in
Lynden, and the Meals on Wheels
program."
Aging Well Whatcom is also
launching a website dedicated to sharing seniors' perspectives, in their own
words. "Older adults tell their story, captured on Zoom, and at the same time
there's an artist painting a portrait of them," Flaherty says. The finished portraits
will then be shown alongside the interviews. "There's so much value that older
adults bring: they bring wisdom, experience and time, they bring resources.
Once you have that in your mind, you start to see the advertisements for
anti-aging lotions and workouts and think, 'Why is aging a bad thing? We need
to celebrate aging."
The coalition is also looking
forward to the time when COVID restrictions can be lifted. "How do we design a space so that older adults and young people can
have interactions organically?" says Flaherty. "All of the research shows that
when younger people get to hang out with older people, there are benefits.
Older people learn from young people, and young people can learn from older
people's mentorship." Right now, the different rules governing day care centers
and senior living facilities keep them from existing together, and the best way
to change that for the future is to update the policies and laws that are
currently in place.
Advocacy
and policy change are among Aging Well's tools for creating the shift in
culture called for by their blueprint. "It's an ongoing goal: How do
we make sure we're considering older adults? Everything from making sure that
sidewalks are accessible, to facilitating ways for people to connect with their
neighbors, to having a phone number that's easy to call to get what you need,"
says Program Manager Lara Welker. "When we say 'culture shift,' we mean instead
of thinking of older adults as burdens or as a population that uses our
resources, thinking of them as a population full of resources—shifting the
paradigm around, and thinking about the value of older adults in our
communities."
"Aging Well Whatcom is not
only about programs and services," Welker continues, "it's really more about
the fabric of our community, how we live together, and how we take care of each
other."